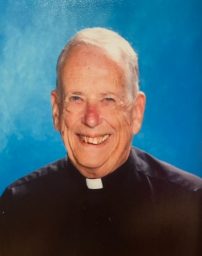 March 26, 2023

Dear People of St. Patrick Parish,

As we listen to the Gospel today, we come to understand many things about Jesus, it helps us to better understand Him, His ways and His teachings. We might ask why should I believe in Jesus? Who is He and what is He all about? How can I, during this season of Lent make Him more real in my life?
We find Jesus sad at the news of the death of Lazarus, but He knows what He will do, and that action will lead many to come and believe that Jesus is really the Son of God.
Jesus knows that returning to Judea will mean He will be killed by those who refuse to accept His message of life, but His love and care for Lazarus makes Him go.
When he arrives He asks, "Where have you laid Him? And John tells us that at that moment Jesus wept. Do we not know that Jesus weeps for us when we sin and pray that we will rise from our sin and continue our journey to eternal life with Him in Heaven.
When Jesus cries out in a loud voice, "Lazarus, come out!" Lazarus comes out wrapped in a cloth and we can feel the moment of joy, thanksgiving and people saying who is Jesus, that He can make the dead rise again?
God the Father heard the prayer of Jesus and made the request come to reality. He also hears our prayers and we ask, trust and thank Him for loving and caring for us and our needs.
This Gospel may make us think of the second coming of Jesus at the moment when He calls our name and our body will rise from the grave and be reunited with our soul that will re-unite us again forever hopefully in Heaven and we will join all the people we love and have loved.
God Bless,
Fr. Larry Young
Pastor