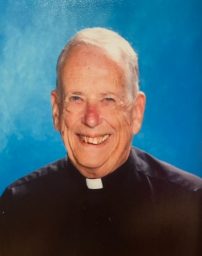 January 29, 2023

Dear People of St. Patrick Parish,

Today is the beginning of National Catholic Schools week. As St. Patrick Parish celebrates being one hundred years old, we take pride in our St. Patrick School and Infant Care Center.
In September 1956, St. Patrick Catholic School opened with Grades 1-3, under the supervision of the Immaculate Heart of Mary Sisters. The First Graduating class was in 1962.
Today, we have Infant care all the way to the eighth grade, one of the few Catholic Schools to be able to provide this education.
As a parish, we are proud of all our graduates and any student who attended St. Patrick Catholic School.
We are seeing graduates enrolling their children and we see grandparents who attended the school helping to send their grandchildren now.
Please take time to visit our Open House today, January 29 from 10:30am – 12:00pm.
Catholic Schools exist, to prepare students to live their lives and be good people, stepping forth to make our world a better place.
The Gospel today has Jesus teaching all people how to live a good life and to make our world a truly happy place, to prepare us for the joy of eternal life in heaven. This teaching is open to all people not just Catholics and people who follow Christ as Christians.
Our Catholic Schools are open to people of all Faiths and hope of God's love.
If you attended St. Patrick School at anytime, be thankful and share that with others so they can be a part of that great education.
Thank you to everyone who helped build our Catholic School and supported it over the years, even today.
God Bless,
Fr. Larry Young
Pastor