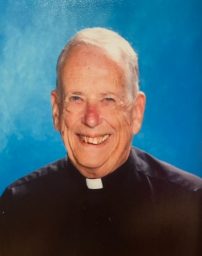 June 04, 2023

Dear People of St. Patrick Parish,

Many people like to read love stories, watch movies about love and to express signs of love to others.
We use our hands to express our feelings both positive and negative.
Thumbs up, thumbs down, sign of the heart with our hands, blowing kisses and waving those kisses through the air.
Since we were children, we have been making the sign of the cross and saying, "In the name of the Father, the Son and the Holy Spirit – Amen."
This weekend the Feast of the Blessed Trinity, let us take some time to pray and reflect on what we say, what we mean and why we pray this prayer.
God the Father, creator of everyone and everything, gracious, slow to anger and rich in kindness and fidelity.
Moses said to God the Father "If I find favor with you, O Lord, do come along in our company. This is indeed a stiff-necked people; yet pardon our wickedness and sins, and receive us as your own."
When we hear these words, do we do a thumbs up with real meaning?
The Gospel of John tells us that God the Father so loved the world that he gave his only Son (Jesus Christ), to save us through His sacrifice of life on the cross.
The Father and the Son wants us to live in peace with all people and help each other get to heaven forever. Is this a thumbs up?
Last Sunday we honored the Holy Spirit the third person of the Blessed Trinity, who comes to us in the Sacraments of Baptism and Confirmation and guides the Church with the love of the Father and the Son. Is this a thumbs up?
Finally, we say Amen, so be it, I do believe. Maybe a thumbs up at the Amen might help us to strengthen our Faith in God.
God Bless,
Fr. Larry Young
Pastor