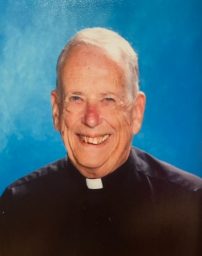 October 01, 2023

Dear People of St. Patrick Parish,

In the Gospel today, a father asked his two sons to go work in the family fields, one said no, I will not, but later changed his mind and went. The other said yes, I will go, but never did. Do we act like that to God our Father? We need to be honest in our answers.
Do we really accept Jesus as our Lord and follow His teachings with honesty and real love of God? Do we say prayers, but ignore the teaching of Jesus and his Church? Are we faithful to going to Mass and receiving the Seven Sacraments? Words and genuine actions are what God wants from us.
Jesus points out to the chief priests and the elders that John the Baptist came to instruct, but they refused to accept and believe. Yet, he says that other people who were not living the best way of life did come to believe and that they will get to heaven.
Today, we might ask ourselves do I accept the teachings of Jesus and His Church, or do I pick and choose what I want?
Yes, we do sin and make mistakes, but this loving God is willing to help us change and do the right thing so that we will enter into eternal life in heaven.
This is also Respect Life Sunday and means that we must respect all lives even if we don't want to. First of all, we must respect the life God gave us, take care of it.
We may not like what some people do, but we cannot hate them and want to see them in hell. We need to pray for them to correct their bad behaviors.
The month of October reminds us to pray the Rosary, The Feast of Our Lady of the Rosary is Saturday, October 7th. The Rosary helps us to meditate on the Life of Christ and ask the Blessed Mother to pray for us and especially our world in this difficult day.
Fr. Jun Manalo is leading a Sacred Pilgrimage and will be away until October 14th, let us all pray for those on this Spiritual Journey.
God Bless,
Fr. Larry Young