A Message from Our Pastor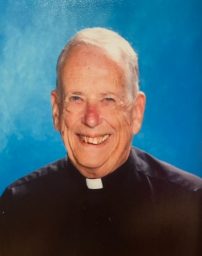 December 04, 2022

Dear People of St. Patrick Parish,

The second Advent candle reminds us to seek peace that also comes from Faith and Hope. Let the second candle help us to seek peace in our lives and to help others to see how our Faith in God helps us to find peace.
During these four weeks, we are preparing to remember the birth of Jesus Christ who came into the world to redeem us and show us how to live in peace.
The prophet Isaiah in the first reading today, gives us hope that can bring peace and help us to recognize Jesus, as the one sent by God to give us all the things, we need to find true peace and happiness here on earth, as we await eternal peace with God in Heaven.
As we hear the words of John the Baptist today, we need to fully understand what he told the Pharisees and the Sadducees, who came to be Baptized in the water that showed repentance from their sins.
We have been baptized with water in the Holy Sacrament of Baptism that actually takes away sin.
Yes, we have been baptized with the Holy Spirit and fire because of the coming of Jesus.
John was saying that Jesus would come with His winnowing fan in His hand. "He will clear his threshing floor and gather his wheat into his barn, but the chaff he will burn with unquenchable fire."
As of right now, do we see ourselves as wheat or as chaff. Yes, Confession can help us to take the first steps to rise in joy or to fall in being lost.
God Bless,
Fr. Larry Young
Pastor